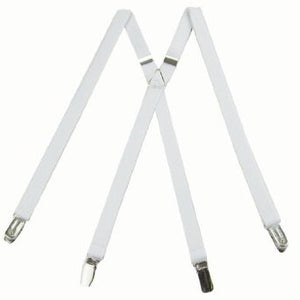 White Adjustable Suspenders
These suspenders will help keep your kilt up and your mind on your dancing. Available in 2 sizes with fully adjustable sliding metal components.  Designed with 4 snap clasps to distribute the weight of your kilt evenly around your body.
Prices below are listed in Canadian Dollars.
One Size
Due to where you wear a kilt vs pants - our new stock of suspenders are good for all ages.  For very small dancers, suspenders can be easily shortened by folding and stitching the elastic if needed.