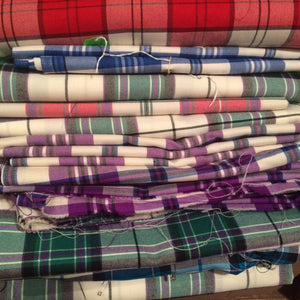 End Of The Roll Sale TARTAN
$ 116.38 CAD

$ 116.38 CAD

Save

$ 49.87 CAD
---
---
Please see the list below for available inventory.

20% - 70% Off
Aboyne Skirt and Shawl Packages: Items A1 to A11 - These include fabric for skirt, shawl, waistband, vest tie, and include Velcro and stiffener for waistband.
Once sold, the product in the drop-down menu will say SOLD OUT.  Tartan pieces of various sizes.  Savings vary based on inventory. Please select the corresponding numbered piece from the drop-down menu provided.  Prices update based on each individual piece!
Please visit our TARTAN PAGE to see images of each tartan
All pieces are 100% wool.
Please note the dimensions of these pieces are in INCHES.  Many pieces do not have salvage edges.  Pieces come from various dye-lots if there is a significant difference, we have noted it in the name.
Leave the QUANTITY as 1 since only 1 piece is available.
List Updated - September 12th, 2023.
Prices BELOW are in CANADIAN dollars. Prices displayed ABOVE will be in your local currency.
Item & Size
Reg
 

SALE PRICE

A-8 - Green Scott Child 144 x 21
 $  160.00
 $ 115.00
A-9 - Red Baird Child 144 x 20
 $  160.00
 $ 115.00
A-10 - Red & Black Crieff Child 144 x 20

 $  160.00
 $ 115.00
A-11 - Turquoise Culloden Teen 144 x 24
 $  165.00
 $ 125.00


 
 

10 - Turquoise Baird 153x33

$  222.06

$ 155.44

11 - Turquoise & Black Crieff 35x108

$  166.25

$ 116.38

18 - Red Wallace 104x34

$  155.52

$ 108.86

29 - Purple Wallace 60x98

$  258.61

$ 193.96

34 - Purple Longniddry 156x30

$  205.83

$ 144.08

36 - Pride of Scotland 135x16

$    95.00

$   61.75

41 - Royal Scott 144x27

$  171.00

$ 111.15

42 - Royal Longniddry 108x34

$  161.50

$ 113.05

43 - Royal Lennox 144x30

$  190.00

$ 133.00

44 - Royal Lennox 60x109

$  287.64

$ 186.97
75 - Green Culloden 144 x 25
$ 158.33
$ 102.91
77 - Turquoise Crieff 29 x 21
$ 26.78
$ 13.39