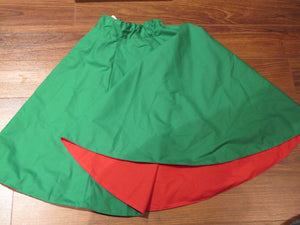 Jig - Reversible Skirt - Adult
Jig skirts are made in poly-cotton in a circle skirt style for added fullness without excessive bulk.  Skirts are made with an elastic waistband.  As the reversible skirts can NOT be hemmed it is recommended that a size larger than needed is ordered if you are seeking room for future growth.  The top of the skirt may be folded at the waist, and this fold is easily concealed by the cummerbund. Skirts are made as a Green / Red reversible skirt.
All costumes meet the strict SOBHD regulations and are reviewed by teachers and judges prior to production.