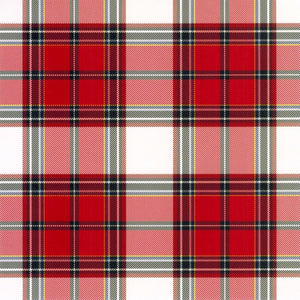 Dress Calgary
$ 95.00 CAD

$ 95.00 CAD

Save

$ 0.00 CAD
---
---
The new Calgary Dress Tartan is a variation of the Calgary Tartan which is a recognized community symbol of the City of Calgary, managed and owned by the St Andrew-Caledonian Society of Calgary.

The colours of the Calgary Dress Tartan are the same as the colours used in the Calgary Tartan, as is the sett of the tartan.
The colours represent:
Red: to honour the Calgary Stampede, Calgary's sports teams and the original Calgary Tartan, whose predominant colour is red;
White: for the snow that grace's Calgary and the Rocky Mountains for many months of every year; for Calgary's renowned white Stetson; and to honour our highland dancers who wear dress tartans to compete;
Black: for the oil & gas industry;
Yellow: for the prairie grain fields that surround Calgary;
Blue: for Calgary's blue skies; and the Bow and Elbow Rivers on which Calgary was founded;
Gray: for the scenic Rocky Mountains to the west.
Effective, May 11, 2018, the Calgary Dress Tartan is a registered commemorative tartan with the Scottish Register of Tartans, Edinburgh, Scotland. The registered owner of the tartan is the Calgary Highland Dancing Association. Highland In Style is proud to be the exclusive distributor of the Dress Calgary Tartan.
100% Wool Dress Calgary Tartan.  Please select either YARD or METRE when ordering.  Leave the quantity as "1" unless you require more than 5 yards/metres.
All plaids are made of 100% wool and are milled in Scotland exclusively for Highland In Style. This particular tartan matches the following velvet colours.
Product Care, Fitting, And Measuring Guide
PLEASE NOTE - Colours are not exactly as shown.  The photos you currently see will soon be updated with high quality high resolution photos.  The current photos are simply for website testing purposes. Customers requiring more than 5 Metres or Yards may simply use the QUANTITY section to apply multiples of lengths. For example, if you require 8 yards, simply chose a length of 4 yards, and set the quantity to 2.