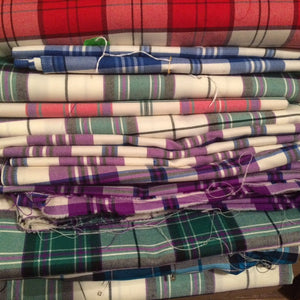 End Of The Roll Sale VELVET
$ 51.46 CAD

$ 51.46 CAD

Save

$ 154.37 CAD
---
---
Please see the list below for available inventory.



40% - 75% Off

 
Once sold, the product in the drop-down menu will say SOLD OUT.  Velvet pieces of various sizes.  Savings vary based on inventory. Please select the corresponding numbered piece from the drop-down menu provided.  Prices update based on each individual piece.
All pieces are 100% cotton.
Please note the dimensions of these pieces are in INCHES.  Many pieces do not have salvage edges.  Pieces come from various dye-lots if there is a significant difference, we have noted it in the name.
Prices listed below are listed in Canadian Dollars.
Leave the QUANTITY as 1 since only 1 piece is available.
List Updated - September 12th, 2023.
Prices BELOW are in CANADIAN dollars. Prices displayed ABOVE will be in your local currency.
Item & Size
Reg
 

SALE PRICE

2 - Burgundy 60 x 78
 $  205.83
 $ 51.46
5 - Dark Wine 55 x 98
 $  258.61
 $ 64.65
6 - Dark Wine 55 x 78
 $  205.83
 $ 51.46
7 - Dark Green Heavy Weight 55 x 120
 $  290.28
 $ 116.11
10 - Dark Fuchsia (black cherry) 55 x 204
 $  493.47
 $ 172.71
11 - Magenta Purple (Deball) 55 x 107
 $  258.83
 $ 129.42
12 - Purple 55 x 64
 $  154.81
 $ 77.00
13 - Navy 55 x 43
 $  104.02
 $ 52.00
14 - Navy 55 x 65
 $  157.23
 $ 78.00
18 - Poppy Red 55 x 50
 $  120.95
 $ 62.00
18-B American Red 50 x 42
 $    92.36
 $ 46.00
19 - Light Turquoise 50 x  55
 $  133.04
 $ 66.00
21 - Extra Light Turquoise 55 x 94
 $  227.38
 $ 115.00
22 - Bright Blue 55 x 32
 $    77.41
 $ 39.00
24 - Dark Navy 55 x 21
 $    50.80
 $ 25.00
25 - Dark Navy 55 x 27
 $    65.31
 $ 32.00