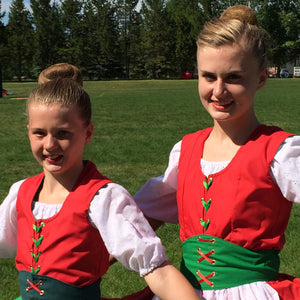 Jig - Reversible Vest - Adult
Jig vest is made in a green and red reversible cotton.  Gold metal grommets and corresponding green and red lace ties gives you the freedom to choose how your outfit looks each time you dance. Pair this vest with a reversible jig skirt, apron, and optional cummerbund for a variety of different looks.This vest has reinforced boning along the front to maintain form, and contains a tailors interfacing to maintain overall shape.
All costumes meet the strict SOBHD regulations and are reviewed by teachers and judges prior to production.